by Laban Carrick Hill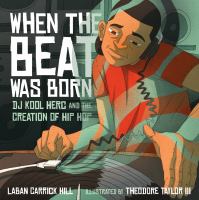 School Library Journal
(c) Copyright Library Journals LLC, a wholly owned subsidiary of Media Source, Inc. No redistribution permitted.

Gr 3-5-As a child in Jamaica, Clive Campbell aspired to be a DJ. At 13, he moved to the Bronx, where he gained the nickname Hercules because he grew to be more than six feet tall. He shortened the name to Herc, added Kool, and is credited as a pioneer of hip hop. He created a new art form for his parties when he plugged in two turntables to create longer breaks for dancing and began chanting the names of his friends during the breaks. Hill's descriptive writing is paired with Taylor's vibrant artwork, which features large crowds dancing, close-up shots of breakdancing, or Herc's hands masterfully spinning the dual turntables. This is a fine introduction to the topic, and the extensive time line, which spans from 1973 to 1986, will help students with reports and show them how this American art form was created.-Glynis Jean Wray, Ocean County Library, Toms River, NJ (c) Copyright 2013. Library Journals LLC, a wholly owned subsidiary of Media Source, Inc. No redistribution permitted.
---
Book list
From Booklist, Copyright © American Library Association. Used with permission.

This picture-book biography introduces one of the unsung creators of hip-hop, Clive Campbell, who was born in Jamaica in 1955. He was entranced by the massive dance parties thrown by a neighbor, and when his family moved to the Bronx, he took up the name Kool Herc and created the innovative techniques behind hip-hop DJing. Stacking musical breaks on top of each other to fuel long stretches of dancing frenzy, calling the kids with the best moves break-dancers, and sending shout-outs to friends and little offhand rhymes over the music Kool Herc unique and hip-hop wouldn't exist without any one of these flashes of inspiration. By the time rap music really took off, in the early 1980s, he was already out of the limelight but not without leaving a massive legacy. Aside from the bouncy bio of the book's star, Hill also highlights the positive social force of hip-hop and the boundless energy of musical joy. It's all matched by Taylor's freewheeling artwork. A treat from an underrepresented corner of music history.--Chipman, Ian Copyright 2010 Booklist
---
Kirkus
Copyright © Kirkus Reviews, used with permission.

The origin of one of the most influential cultural movements in recent times--hip-hop--is presented through the story of DJ Kool Herc, the man who "put the hip hip hop, hippity hop into the world's heartbeat." Young Clive fell in love with music as a child in Jamaica, watching a popular DJ unpack crates of records to set up for house parties. When he moved to the Bronx, Clive became Kool Herc, and when he had the opportunity to throw his own dance parties, he became DJ Kool Herc. Herc's innovative style as a DJ, stretching the breaks in songs from seconds into minutes, allowed the creativity of others to erupt, such as break dancers, rappers and MCs. Hip-hop was born. Hill and Taylor have accomplished something special with this picture book, capturing the energy of the early hip-hop movement and presenting it in a manner that is accessible for children. The rhythm and balance of text make this an engaging read-aloud for young children, while the subject matter and animated style of the full-page illustrations will appeal to independent readers as well. This effervescent celebration of the roots of hip-hop will make readers feel the beat. (author's note, timeline, bibliography) (Picture book. 4-9)]] Copyright Kirkus Reviews, used with permission.
---
Horn Book
(c) Copyright The Horn Book, Inc., a wholly owned subsidiary of Media Source, Inc. No redistribution permitted.

Clive (Kool Herc) Campbell, the "father" of hip hop, moved from Jamaica to the Bronx with a passion for music and a dream of DJing. Hill's "hippity hop[py]" text eventually settles on an appropriate cadence. Taylor's double-page illustrations capture Herc's skilled hands at the turntables and the vitality of a burgeoning art form. A welcome addition to an underrepresented subject. Timeline, websites. Bib. (c) Copyright 2014. The Horn Book, Inc., a wholly owned subsidiary of Media Source, Inc. No redistribution permitted.
---
Publishers Weekly
(c) Copyright PWxyz, LLC. All rights reserved

Here's a twofer: an expert biography of a hip hop and rap pioneer, and a not-to-be-missed picture-book debut by Taylor, a Washington, D.C.-based artist. Herc, an aspiring DJ and reluctant immigrant from Jamaica to the Bronx, was working a house party at his Sedgwick Avenue housing project when inspiration struck: he put the same record on two turntables to extend the break in a song ("when the lyrics ended and the music bumped and thumped") and added verbal riffs drawn from Jamaican chanting and toasting. "Kool Herc's music made everybody happy," writes Hill (Dave the Potter). "Even street gangs wanted to dance, not fight." Hill walks the fine line between knowledgeable reporter and passionate fan (as is clear in his vivid author's note), and Taylor does the same, using a meticulous inkline and washes of textured earth tones to convey both a sense of observational precision and a mural-like expressionism. Whether Taylor is zooming in on Herc's dexterous hands manipulating the turntables or pulling back for a birds-eye view of the first break dance performances, he makes readers feel like they're present at hip-hop's inception. Ages 6-10. (Aug.) (c) Copyright PWxyz, LLC. All rights reserved.