by Rebecca Makkai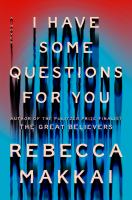 School Library Journal
(c) Copyright Library Journals LLC, a wholly owned subsidiary of Media Source, Inc. No redistribution permitted.

Bodie Caine, a successful podcaster, returns to the boarding school she attended to teach a mini-semester class on podcasting. This provides her with the opportunity to encourage her students to investigate the murder of her classmate Thalia Keith. A Black staff member, Omar Evans, was convicted of her murder, but Bodie believes it was a wrongful conviction, and the killer is a teacher who may have been grooming Thalia. Her actions set into motion an investigation that raises more questions and reveals some truths. The narrative moves back and forth between Bodie when she was a student and current events, starkly illustrating the casual sexual harassment and assault of female students by their male classmates that was brushed off as "boys will be boys." Omar is granted a hearing, the result of new information uncovered by Bodie's student podcasters, bringing former classmates back to town. These adults now find themselves facing the dark parts of their teen past. Throughout the narrative are brief montages of women killed by violence: "Wasn't it the one where she was stabbed?—no. The one where she got in a cab with—different girl. The one where she went to the frat party, the one where he used a stick, the one where he used a hammer…." These run like a lament. Bodie is introspective and manipulative and writes her story directed at the teacher Thalia was involved with. The ending is realistic and not what Bodie hoped for, but she does find some closure. VERDICT A page-turning examination of power, sex, and murder as characters revisit their pasts with a new perspective.—Tamara Saarinen
---
Publishers Weekly
(c) Copyright PWxyz, LLC. All rights reserved

Makkai returns after her Pulitzer-finalist The Great Believers with a clever and deeply thoughtful story involving a 1990s boarding school murder and its repercussions decades later. Bodie Kane, a successful 40-year-old podcaster, returns from Los Angeles to her alma mater in New Hampshire in 2018 to teach. After two of her students team up on a Serial-like podcast about the killing of Thalia Keith, whose murder was pinned on the school's Black athletic trainer, Omar Evans, questions are raised about the state's flimsy case against Omar and Thalia's classmates' racist assumptions about his guilt. Meanwhile, Bodie reexamines her own understanding of what happened, and comes to grips with the predatory behavior of her and Thalia's beloved music teacher. Just as Makkai brought a keen perspective to the 1980s with her previous novel, she does a brilliant job here at showing how in the '90s girls were conditioned to shrug off sexual assault. A steady stream of precise, cringe-inducing period details—Thalia's manipulative jock boyfriend belts out "Come to My Window" while drunk—prove the reader's in good hands. A final act, set in spring 2022, brings more of the classmates together for a deliciously complex reckoning. This is sure to be a hit. Agent: Nicole Aragi, Aragi Inc. (Feb.)
---
Kirkus
Copyright © Kirkus Reviews, used with permission.

Art imitates life: A podcast explores whether a man who has served more than 20 years in prison for the murder of a young woman was wrongfully convicted. While Makkai's latest is likely inspired by the Adnan Syed/Serial story—in the news recently as Syed's conviction was vacated and he was released from prison—she has added intriguing layers of complication to her version. Bodie Kane, producer of a hit podcast about Hollywood starlets, has been invited back to Granby, the elite New Hampshire boarding school she graduated from in 1995, to teach a course on podcasting during the two-week "mini-mester"of January 2018. Among the topics Bodie suggests to her students is the murder of her classmate Thalia Keith, which occurred in the spring of their senior year on the night of the school musical. A Black man who worked for the school as an athletic trainer was convicted and imprisoned for the murder of the White Thalia, but doubts have fueled interest in the case ever since, including a 2005 episode of Dateline and a website promoting the view that the boyfriend did it, robbieserenhoisguilty.com. As Bodie works with her high schoolers to investigate, a major #MeToo–type scandal breaks in her own life, involving her partner, a well-known visual artist. Meanwhile, her return to Granby forces her to confront her troubled younger self: the ways she was affected by her disastrous childhood and her connection to a teacher who was certainly a predator and may even have been the murderer. Punctuating the story with lists of references to familiar crimes—"the one where" this or that happened—Makkai places the fictional murder in a societal context of violence against women and the obsession with true crime. Fans of The Great Believers (2018) should be forewarned that this book does not have the profound impact of its predecessor, partly because the emotions brought up by its topic are on the outrage-anger spectrum rather than the grief-sorrow one. Also, Makkai seems not to want us to fall in love with Bodie, who herself is a bit cold, but perhaps this is because the whole narrative is addressed to a "you" she is furious with. Well plotted, well written, and well designed to make its points. Copyright © Kirkus Reviews, used with permission.
---
Book list
From Booklist, Copyright © American Library Association. Used with permission.

Beloved novelist Makkai follows up The Great Believers (2018), winner of the Carnegie Medal and a host of other awards, with this beguiling campus novel that blends true-crime obsession and #MeToo-era reckoning with a woman's inevitable exorcism of the past. Host of a popular podcast that reexamines the lives of female film stars, Bodie Kane returns to the New Hampshire boarding school she attended in the 1990s to lead a brief, intensive winter course on podcasting. As Bodie knew, however subconsciously, one student would investigate the death of Bodie's classmate Thalia Keith, a crime a devoted following of online sleuths believes is far from resolved, though the school's former athletic trainer has been imprisoned for decades. Drifting back to her own student years, Bodie narrates her contemporary collision course with the case to the Granby music teacher she's now certain behaved inappropriately with underage Thalia, a man who also took self-protective teenage Bodie—and how many others?—under his wing. Both wide-angle observer and genius provocateur, Bodie is so real readers will expect to find her in their own yearbooks. Chilled as the deep New England winters during which it takes place and twisty with the slowly found and then suddenly illuminated branches of memory, Makkai's rich, winding story dazzles from cover to cover. HIGH-DEMAND BACKSTORY: Fingers are already poised over the hold button for Makkai's first novel since the still-raved-about The Great Believers.