by Riley Sager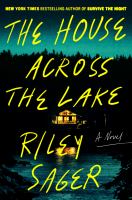 Publishers Weekly
(c) Copyright PWxyz, LLC. All rights reserved

The setup of Rear Window serves as the framework for this outstanding novel of suspense from bestseller Sager (Survive the Night). Actor Casey Fletcher has become an alcoholic in the wake of the recent death of her screenwriter husband, who slipped out one morning to go fishing at their vacation home on Vermont's Lake Greene, fell into the water, and drowned. After Casey is fired from her latest Broadway role for showing up drunk for a performance, she returns to the Vermont house. One day, while on her third or maybe fourth bourbon, Casey spots someone who may be drowning in the middle of the lake. She jumps into her motorboat and rescues a neighbor, former supermodel Katherine Royce. The grateful celebrity befriends her savior, who soon becomes convinced that Katherine's life remains at risk. While spying on Katherine's home, Casey comes to suspect that Katherine's husband is plotting to murder her. Sager brilliantly misdirects readers while playing fair with them. Newcomers and fans both will be eager to see what he pulls off in his next book. Agent: Michelle Brower, Trellis Literary. (June)
---
Kirkus
Copyright © Kirkus Reviews, used with permission.

Celebrity scandal and a haunted lake drive the narrative in this bestselling author's latest serving of subtly ironic suspense. Sager's debut, Final Girls (2017), was fun and beautifully crafted. His most recent novels—Home Before Dark (2020) and Survive the Night (2021) —have been fun and a bit rickety. His new novel fits that mold. Narrator Casey Fletcher grew up watching her mother dazzle audiences, and then she became an actor herself. While she never achieves the "America's sweetheart" status her mother enjoyed, Casey makes a career out of bit parts in movies and on TV and meatier parts onstage. Then the death of her husband sends her into an alcoholic spiral that ends with her getting fired from a Broadway play. When paparazzi document her substance abuse, her mother exiles her to the family retreat in Vermont. Casey has a dry, droll perspective that persists until circumstances overwhelm her, and if you're getting a Carrie Fisher vibe from Casey Fletcher, that is almost certainly not an accident. Once in Vermont, she passes the time drinking bourbon and watching the former supermodel and the tech mogul who live across the lake through a pair of binoculars. Casey befriends Katherine Royce after rescuing her when she almost drowns and soon concludes that all is not well in Katherine and Tom's marriage. Then Katherine disappears….It would be unfair to say too much about what happens next, but creepy coincidences start piling up, and eventually, Casey has to face the possibility that maybe some of the eerie legends about Lake Greene might have some truth to them. Sager certainly delivers a lot of twists, and he ventures into what is, for him, new territory. Are there some things that don't quite add up at the end? Maybe, but asking that question does nothing but spoil a highly entertaining read. A weird, wild ride. Copyright © Kirkus Reviews, used with permission.
---
Library Journal
(c) Copyright Library Journals LLC, a wholly owned subsidiary of Media Source, Inc. No redistribution permitted.

Ever since her husband died unexpectedly, Casey Fletcher has been on a downward spiral, using alcohol as her crutch. When she is fired from a Broadway play for showing up intoxicated and social media blows it up, her film star mother gives her an ultimatum: rehab or retreat to their secluded lake house in Vermont. Casey chooses the lake. Bored and drunk, she has monotonous days, and the front porch becomes her safe place, where she can stare out at the dark surface of Lake Green and try to forget. One morning, she sees a body floating on the water, and without thinking, dives in and saves the person. The drowning victim is her new neighbor, Katherine, a famous model married to Tom, a tech millionaire. The women strike up a friendship, leading Casey to "peep" on her neighbors. Casey becomes obsessed with watching them through her binoculars. When Katherine suddenly goes missing, the story becomes a mix of Rear Window and The Girl on the Train. VERDICT Casey as the unreliable narrator mixed with suspicious neighbors, supernatural undertones, and multiple blindsiding twists, means Sager (Survive the Night) has written another winner.—Marianne Fitzgerald
---
Book list
From Booklist, Copyright © American Library Association. Used with permission.

"The lake is darker than a coffin with the lid shut." So begins Sager's sixth thriller (following Survive the Night, 2021), an homage to Hitchcock's Rear Window that effectively uses the voyeur theme. Casey Fletcher, actress and recent widow, escapes to her family's lake house amid a slew of unflattering tabloid stories and in the wake of being fired from her latest role. With little to do but drink, she spends her days spying on the new couple across the lake, ex-model Katherine Royce and her husband, Tom. When Casey saves Katherine from drowning, a friendship blossoms, until Katherine goes missing and Casey suspects that Tom is involved. Sager is terrific at creating suspense within a confined, sometimes claustrophobic setting, and he makes the most of his unreliable narrator. Fans of stories that keep the heart pounding and the mind engaged will enjoy this one, although some may find a few of the twists hard to believe. Still, those willing to suspend disbelief will be happy to follow this wild ride from one of the genre's most entertaining authors.