by Adam Rubin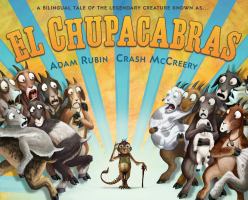 School Library Journal
(c) Copyright Library Journals LLC, a wholly owned subsidiary of Media Source, Inc. No redistribution permitted.

K-Gr 3-A fabled creature becomes an unexpected hero in this wacky bilingual picture book. Carla and her father Hector live happily on a goat farm surrounded by cacti and mountains. However, the wide-eyed, fearful expression on a number of their goats hints at a looming danger. After one of the goats goes missing, Carla bikes off in search of the bovid, only to find him flat as a tortilla. According to legend, El Chupacabras, or Goat Sucker, is a terrifying creature, but really he is a reptile-like "tiny gentleman," who wears a monocle, enjoys churros con chocolate, and, yes, the occasional goat. A passing flower peddler offers Hector magic dust for protection, but the plan backfires, and the goats turn into giants. Carla quickly realizes only El Chupacabras can bring the livestock back down to size. Rubin mixes and alternates between English and Spanish text. McCreery's images enhance and complement Rubin's offbeat narrative through vivid, realistic illustrations. Shifts from detailed close-ups to expansive scenic panoramas give the book a cinematic feel. VERDICT An intriguing title that firmly establishes a modern Latin American legend into the cryptid canon. Highly recommended.-Jessica Agudelo, New York Public Library © Copyright 2018. Library Journals LLC, a wholly owned subsidiary of Media Source, Inc. No redistribution permitted.
---
Kirkus
Copyright © Kirkus Reviews, used with permission.

The monster with a taste for goats' blood is at the center of this bilingual tale.On an isolated ranch, Carla and her dad, Hctor, wake up to an ominous sound. The next day their wide-eyed goats are trembling in a treeall but one. Carla cycles around their property until she comes upon what looks like a goat pancake. Aside from its head ("Blaaaaa!"), the goat is a boneless puddle. "EL CHUPACABRAS!" Hctor cries, with the handkerchief-munching cabra draped limply across his arms. A flower peddler offers protective magic dust, but Hctor overdoes it. After a few sneezes, the unhappy goats are taller than the distant town's churchand they have enormous appetites. The story plays fast and loose with the legend, taking place "a long time ago," even though the chupacabras reportedly first appeared in Puerto Rico in 1995. Rubin's fully bilingual text weaves English together with Spanish with no discernable pattern, often switching in the middle of a sentence, which may prove a challenge for some. McCreery's humorous illustrations (the goats are hilarious) are sometimes at odds with the text. The ranch appears to be in the desert Southwest, but Carla quickly rides her bicycle to a convenient forest. After a goat eats the bell tower, the narrative states there was no "permanent damage." The chupacabras, described as a "tiny gentleman," is a visual mix of the Grinch and a simian reptile; Carla and Hctor have brown skin and straight, black hair.Despite incongruities, Rubin's silly story and McCreery's animation-quality artwork will attract eager fans. (Picture book. 4-8) Copyright Kirkus Reviews, used with permission.