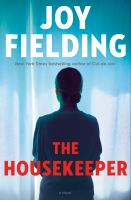 Publishers Weekly
(c) Copyright PWxyz, LLC. All rights reserved

Toronto real estate broker Jodi Bishop, the narrator of this engrossing psychological thriller from bestseller Fielding (Cul-De-Sac), has a lot to worry about. Jodi's husband, a onetime literary sensation whose second novel has been stalled for years, takes his writing too seriously to care for their children. Her parents, Vic and Audrey Dundas, are overwhelmed by Audrey's advanced Parkinson's disease. When Audrey suffers a dangerous fall, Jodi overrides her father's objections and hires a live-in housekeeper. Interviewing Elyse Woodley after several lackluster candidates, Jodi ignores her sense that the vibrant 62-year-old widow seems too good to be true. Elyse promptly charms Vic and gets the Dundas household organized, freeing Jodi to focus on her embattled marriage and busy career. Then Audrey's health fails precipitously while Elyse begins wearing Audrey's expensive Cartier watch and limiting Jodi's access to her parents. Unsure whether these are warning signs or coincidences, Jodi tries to ensure her parents' safety without overriding their wishes. Though this isn't Fielding's most inventive plot, her well-wrought characters carry the story. This insightful exploration of the complexities of caring for aging relatives deserves a wide readership. Agent: Tracy Fisher, WME. (Aug.)
---
Library Journal
(c) Copyright Library Journals LLC, a wholly owned subsidiary of Media Source, Inc. No redistribution permitted.

Fielding's (Cul-de-Sac) latest is an exciting roller-coaster ride of family dysfunction, marital dynamics, and gaslighting. Jodi Bishop is a successful real estate agent, wife, and mother whose busy life is made even busier by her mother's Parkinson's diagnosis. She hires Elyse Woodley as a housekeeper to take care of her mother and help her aging father, and she couldn't be happier with her choice. Elyse is kind and hardworking, ingratiating herself and becoming a confidante to Jodi. She seems like a dream come true until suddenly she's shutting Jodi out and her mother's health declines rapidly. Elyse is wearing her mother's jewelry, flirting with her father, controlling everything. How did it go wrong so quickly, and why is Jodi the only one who notices? Fielding's novel is gripping from the beginning, and Jodi is a fleshed-out, relatable protagonist. The plot builds to a nail-biting climax, but readers might feel let down by the quick, albeit satisfying, conclusion. VERDICT Recommended for fans of women-led suspense novels such as Mary Kubica's The Other Mrs. and Ruth Ware's The Lying Game.—Carmen Clark
---
Library Journal
(c) Copyright Library Journals LLC, a wholly owned subsidiary of Media Source, Inc. No redistribution permitted.

With her mother succumbing to Parkinson's disease, successful real estate agent Jodi Bishop believes that her father, however alert and commanding, can't manage the caretaking. So she hires peppy, sixtyish widow Elyse Woodley as housekeeper. Big mistake. From the New York Times best-selling Fielding, author most recently of Cul-de-Sac.
---
Book list
From Booklist, Copyright © American Library Association. Used with permission.

Fielding follows up the excellent Cul-de-Sac (2021) with this story of a woman who does the wrong thing for the right reasons. Jodi's mother is in the advanced stages of Parkinson's, and her father, while still fairly mobile, is in his late seventies. So Jodi convinces her parents to hire a housekeeper, a woman in her sixties who seems like she'll be a perfect fit. Appearances can be deceiving. Distracted by a difficult home life—Jody and her novelist husband keep clashing, and he might be having an affair—Jodi misses the early signs of trouble. By the time she figures out that the housekeeper isn't the person she appeared to be, it could be too late. This is exactly the sort of story Fielding tells superbly. It's a character-driven thriller, and she excels at creating people who exude the breath of real life. It's a subtle story, too, relying heavily on subtext and the reader's ability to put the clues together—again, very much in the author's wheelhouse. Fielding's many followers will definitely want to add The Housekeeprer to their TBR lists, and any psychological-thriller readers who aren't already familiar with Fielding's work will start backtracking after reading this one.