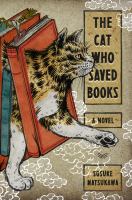 Kirkus
Copyright © Kirkus Reviews, used with permission.

A young Japanese bookseller sets out to rescue books in peril—with the help of a most unusual feline. After the death of his beloved guardian and grandfather, high school student Rintaro Natsuki drifts into running his grandfather's rare bookshop while waiting to be sent to live with an aunt he doesn't know. Rintaro is a hikikomari—socially withdrawn and isolated from most activities—and finds comfort and meaning in the books so precious to his plainspoken and well-meaning grandfather. His quiet, solitary life is disrupted when, in a bolt of magical realism, a talking tabby cat named Tiger enlists his help in rescuing "books that have been imprisoned." Some of the victimized books are locked away from readers by collectors, others are mutilated by abridgment and summarization, and more are treated as commodities by publishing conglomerates. Rintaro undertakes the challenges assisted by the saucy cat few humans can see, and his quests resemble the tests posed to heroes in myth, legend, and video game. His growing awareness of the attentions of persistently positive schoolmate Sayo lends the tale a gentle wholesomeness. Rescuing the story from sappiness are references to the classic books on the store's shelves, mostly from the Western canon, that have formed Rintaro's belief system. Lovers of traditional literature and books themselves will find validation in the lessons Rintaro learns (and teaches), while the story's structure and fanciful nature may hold appeal for a young adult audience more familiar with the conventions of gaming. Tiger gets the best lines of dialogue but…why not? Cats, books, young love, and adventure: catnip for a variety of readers! Copyright © Kirkus Reviews, used with permission.
---
Publishers Weekly
(c) Copyright PWxyz, LLC. All rights reserved

In Natsukawa's wispy, allegorical English-language debut, a shy teen and a talking cat go on a series of adventures to save books and reading for mankind. Rintaro, a high school student, has always been an introvert, with self-professed hikikomori (reclusive) tendencies that only intensify following the death of his beloved grandfather, the proprietor of a small secondhand bookstore, which he inherits. Rintaro is in the process of closing up the shop in order to move away and live with his aunt when he is interrupted by a bossy ginger tabby cat who tells him there are books that have been "imprisoned" and that Rintaro's help is needed to "rescue" them. Together, and sometimes accompanied by Rintaro's classmate Sayo, they visit a series of magical locations ruled by the villains who are threatening the world of books—among them a professor who reduces entire works of literature to one summary sentence, a public intellectual who treats books like "decorative objects," and a publishing professional who only values books that sell. While the premise is charming, this doesn't quite develop from one-note fable into fully realized novel. It's hopeful and breezy, but the simplistic battle between good and evil won't give readers much to dig into. (Dec.)
---
Book list
From Booklist, Copyright © American Library Association. Used with permission.

It starts with a cat—a large, plump one that shows up one day in the tiny used bookstore that originally belonged to Rintaro Natsuki's late grandfather. His parents gone and his grandfather now dead, Rintaro—a "completely average" high school student except that he is something of a recluse and a voracious reader—is left on his own. He immediately stops going to school, to the distress of Sayo Yuzuki, a neighborhood girl, and she—but wait! What about that cat? Well, unlike Rintaro, it's anything but average, for this is a talking cat. And he has come to enlist Rintaro's aid in confronting someone called the Imprisoner of Books. And thus starts the first of four book-related adventures that will increasingly test Rintaro's mettle and impact his relationship with strong-willed Sayo, who insists on coming along. Yes, bibliophiles will dote on this charming import from Japan, smoothly translated by Louise Heal Kawai. Let Rintaro's grandpa have the final word here, for his mantra is unimpeachable: books, he says, have tremendous power. And so they do.
---
Library Journal
(c) Copyright Library Journals LLC, a wholly owned subsidiary of Media Source, Inc. No redistribution permitted.

A No. 1 best seller in Japan whose physician author won the Shogakukan Fiction Prize for his debut novel, this smart charmer should appeal to readers everywhere. Book-loving high school student Rintaro Natsuki is on the verge of selling the secondhand bookstore he inherited from his grandfather when a talking cat named Tiger appears and demands his help in rescuing misused books from their cruel or oblivious owners. Whether anguishing on a bookshelf, cut up to facilitate speedreading, or victimized by publishing dullards who want only best sellers, these books are reached by different mazes, with the last maze promising to be a special challenge. Multiple foreign rights sales; with a 35,000-copy first printing.