by Richard Paul Evans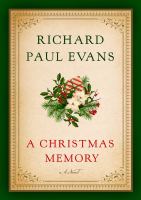 Book list
From Booklist, Copyright © American Library Association. Used with permission.

Evans, master of the holiday tearjerker, presents a novel based on his own memory of Christmas 1968. Ricky Evans, newly transplanted from Pasadena to Salt Lake City, is having trouble finding his place. He is bullied not just by his peers but also by his cruel new teacher. At home, things are not much better. His mother's depression over the recent loss of a loved one and her crumbling marriage keep her in her bedroom. His father's absence is devastating. One day, Ricky is saved from his bullies by a neighbor, Mr. Booker Foster. Mr. Foster offers Ricky a respite from his miserable life: a friendly dog, fresh-baked cookies, and endless hot chocolate. As Christmas nears, though, things do not improve. With his mother in dire need of help, Ricky's father returns home only to announce his plans for divorce. The ending is both sad and hopeful, and little Ricky eventually finds his place in the world through writing. Fans of Evans' work will be both moved by and invested in this semiautobiographical tale.