by Janet Evanovich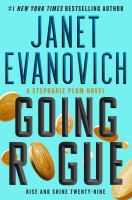 Library Journal
(c) Copyright Library Journals LLC, a wholly owned subsidiary of Media Source, Inc. No redistribution permitted.

Evanovich's 29th Stephanie Plum mystery (after Game On: Tempting Twenty-Eight) opens just after Connie, the office manager at Vincent Plum Bail Bonds, has been kidnapped. Stephanie receives a call from the kidnappers, who demand the return of a valuable coin that was given to Vinnie, Stephanie's cousin and boss, as collateral for a bail bond. If the coin is not returned within 24 hours, Connie will suffer the consequences. Unfortunately, the person who was bonded has been murdered. The office storage room has been ransacked, but the coin is nowhere to be found. Along with her wisecracking sidekick Lula, and the help of Evanovich's ever-popular cast of characters, Stephanie tries to track down the coin. Returning narrator Lorelei King once again does an exceptional job bringing the characters' distinctive personalities to life. No two voices are alike, and all are memorable, including Ranger's sexy "babe," Grandma Bella's evil-eye curse, gun-toting grandma Mazur's high, squeaky voice, and boyfriend Morelli's utter calm. VERDICT Fans of Stephanie Plum and patrons who want a laugh-out-loud listen will be enchanted.—Ilka Gordon
---
Publishers Weekly
(c) Copyright PWxyz, LLC. All rights reserved

At the start of bestseller Evanovich's fast and fun 29th outing for Stephanie Plum (after 2021's Game On), the Trenton, N.J., bail bondswoman arrives at work one morning to find Connie Rosolli, the ever dependable office manager at Vincent Plum Bail Bonds, gone and the storeroom ransacked. Stephanie later receives a phone call demanding that she turn over a special coin that a recently murdered client gave to Vinnie, her cousin and boss, as collateral and that's now missing. If she fails to find the coin within 24 hours, Connie will suffer the consequences. Assisted by her feisty grandma, Mazur; her doughnut-eating, pistol-packing colleague, Lula; and her occasional lover, Ranger, owner of a high-tech security firm in downtown Trenton, Stephanie checks out several eccentric individuals, including a comic book collecting geek with a penchant for role play and an accountant turned panhandler and pickpocket. Never mind the surfeit of shifting characters and motives, or the late arrival of the bad guys and their nefarious doings. Perky, fast-talking Stephanie's nonstop monologue of zany events keeps the pages turning. This fetchingly frivolous entry may not be Evanovich's best, but it satisfies. Agent: Celeste Fine, Park and Fine. (Nov.)
---
Library Journal
(c) Copyright Library Journals LLC, a wholly owned subsidiary of Media Source, Inc. No redistribution permitted.

Having launched a new series this spring with The Recovery Agent, the No. 1 New York Times best-selling Evanovich returns with the ever-popular Stephanie Plum, still dealing with trouble and her troublesome family.
---
Book list
From Booklist, Copyright © American Library Association. Used with permission.

Evanovich's twenty-ninth Stephanie Plum novel proves that the sassy New Jersey bail-bonds agent is as irrepressible as she was in her first outing, One for the Money (1994). In her latest (mis)adventure, Plum investigates the kidnapping of her sleazy cousin, Vinnie, who runs the bail-bonds company where Stephanie works, and Connie, the office manager. Their disappearances seem related to a valuable coin that Vinnie took as surety for a customer's bond, but the coin, worth millions, has also vanished, and a mystery caller threatens dire repercussions if it isn't returned to him in 24 hours. When the bail-bonds office is blown up, and someone stun-guns Stephanie, she knows her adversaries aren't kidding around. Fortunately, Stephanie has help in rounding up the baddies, and that's good news for her fans, who can't get enough of the series' stellar supporting cast: Stephanie's feisty, gun-toting grandma; her first-string boyfriend, cop Joe Morelli; her "back-up" boyfriend, Ranger, the super-handsome, super-sexy, ex-military hunk who owns a high-end security firm; flamboyant and foul-mouthed office assistant Lula; and even Joe's weird, spell-casting grandma. Irreverent, raucous, bawdy, and always laugh-out-loud hilarious, this is Evanovich at her brilliant best.HIGH-DEMAND BACKSTORY: Over multiple series and stand-alones, Evanovich has produced 43 New York Times best-sellers in the last 26 years.