by Nora Roberts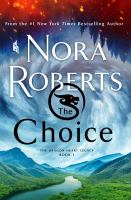 Book list
From Booklist, Copyright © American Library Association. Used with permission.

Breen Siobhan Kelly pledged her life to protect Talamh, and now she may have to pay that price. After discovering a gateway in Ireland between the world of humans and the magical world of Talamh, Breen has been busy building a wondrous new life for herself there, all while coming to terms with the knowledge that she is the granddaughter of Odran, an ancient god whose one goal is to destroy everyone and everything good in Talamh. Breen knows that going up against Odran will not be easy, but Breen also knows that she has a strong band of family, friends, and a new true love who have all got her back. After launching her Dragon Heart Legacy trilogy with The Awakening (2020) and delivering The Becoming last year, Roberts now wraps up things with an entrancing, enchanting conclusion that makes the most of this author's vivid world-building skills, not to mention her gift for crafting a sweeping plot that effectively melds high-stakes danger and cozy domestic details.
---
Library Journal
(c) Copyright Library Journals LLC, a wholly owned subsidiary of Media Source, Inc. No redistribution permitted.

In this conclusion to the trilogy begun with The Awakening and The Becoming, Breen Siobhan Kelly rests comfortably now that her evil-god grandfather's efforts to control her and her homeland of Talamh have been waylaid. Then treacherous witches appear in her dreams, threatening to destroy her and the innocents around her. With a one-million-copy first printing.
---
Publishers Weekly
(c) Copyright PWxyz, LLC. All rights reserved

Bestseller Roberts expertly weaves threads from the previous two books of her Dragon Heart Legacy series into an epic climax and gratifying grand finale (following The Becoming). Life continues in the magical world of Talamh in the aftermath of the Battle of the Dark Portal: fallen loved ones are honored, couples wed, babies are born, and the wheel of the year turns. But the shadow of the evil god Odran, who hopes to crush Talamh and rule all the worlds, still looms, and series protagonist Breen and her found family prepare for a final confrontation between the forces of light and darkness. The world and characters are comfortably established by this point, allowing readers to be swept away by waves of events as the battle intensifies. Though the broad outcomes are easily anticipated, Roberts raises the stakes enough to keep readers guessing from moment to moment. Add in a little romance to round out the tale, and the result is a rewarding outing for old and new fans alike. Agent: Amy Berkower, Writers House. (Nov.)
---
Kirkus
Copyright © Kirkus Reviews, used with permission.

A magickal Fey community works together to celebrate life and fight against evil. In the third and final installment of Roberts' Dragon Heart Legacy series, Breen Kelly has made a life for herself in Talamh, a mystical realm reached through a portal in Ireland. In Talamh, Breen has found love and acceptance in the Fey community. She has settled into a passionate, romantic relationship with Keegan, the leader of the Fey. Breen is learning more about her powers and explores how to control and harness the magick she was born with, along with discovering new powers that belong to her alone. However, Breen realizes Talamh is still in danger. Although the Fey community has successfully held off attacks from Breen's grandfather the god Odran, Talamh will never be safe as long as he is alive. The Fey refuse to live in fear, and people in the village celebrate both weddings and births as they prepare for what they hope will be the final battle with the vengeful god. All signs and prophecies indicate that Breen will play a key role in defeating Odran. As Breen gains control of her powers, she also has disturbing dreams about Odran's plans. Breen's visions reveal that several Fey are actually Odran's spies. The Fey are pained by this betrayal, wondering how their loved ones could be so steeped in poisonous hatred that they turned their backs on their own people. Roberts explores how communities battle evil from without and within. In the end, the community's bonds of love and loyalty show how good can defeat evil, a classic fantasy theme that continues to stay relevant. A thought-provoking and action-packed series finale. Copyright © Kirkus Reviews, used with permission.