by Nicholas Sparks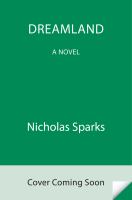 Publishers Weekly
(c) Copyright PWxyz, LLC. All rights reserved

Bestseller Sparks (The Wish) serves up a sentimental romance between a farmer with a tragic past and a musician with lofty ambitions. Overworked Colby Mills, 25, is on a brief vacation from his North Carolina farm and indulging in his true passion, music, by playing gigs at a bar in St. Petersburg, Fla., when he meets 21-year-old Morgan Lee, a recent college grad heading to Nashville to make it big. Their chemistry sparks immediately, underpinned by their shared love of music, and they embark on a romance. But when tragedy strikes for Colby, and Morgan achieves life-changing success, their path to happily ever after becomes unexpectedly bumpy. Woven throughout is a suspenseful subplot about a woman named Beverly who is fleeing an abusive marriage with her young son, Tommie. While it's slightly jarring in the beginning, the story line's connection to Colby and Morgan evaentually comes into beautiful, heartbreaking clarity. As ever, Sparks brings the melodrama, but his empathetic characters and their down-to-earth personalities make it easy to get immersed in this world. Readers who love epic romantic sagas will want to snap this up. (Sept.)eb
---
Library Journal
(c) Copyright Library Journals LLC, a wholly owned subsidiary of Media Source, Inc. No redistribution permitted.

In Other Birds, next from the New York Times best-selling Allen, Zoey encounters a runaway girl, two grumpy middle-aged sisters, a famed writer, an isolated chef, and three ghosts when she returns to her recently deceased mother's apartment in a horseshoe-shaped house on South Carolina's Mallow Island, where tiny turquoise birds called Dellawisps flit (200,000-copy first printing). In Emmons's Unleashed, deep cracks in Lu and George Barnes's marriage become evident once only daughter Pippa goes to college, even as Pippa struggles to retain her budding sense of independence amid loneliness and the California wine country surrounding them all threatens to burn. Cohost of the popular podcast Who? Weekly, Finger sets his debut, The Old Place, in a small Texas town where a reluctantly retired schoolteacher Mary Alice finds her life—especially her friendship with close neighbor Ellie—suddenly in question when a long-buried secret is revealed. In debuter Huynh's The Fortunes of Jaded Women, three estranged Vietnamese American sisters living in Orange County's Little Saigon must find a way to lift a curse placed on their family long ago never to find love or happiness (100,000-copy first printing). Blockbuster author Sparks again takes readers to Dreamland in a book about pursuing one's desires possibly at the cost of abandoning the past.
---
Book list
From Booklist, Copyright © American Library Association. Used with permission.

Colby is taking the first vacation from his family farm that he has had in years. It's not entirely a vacation, since he is playing in a band at a bar in Florida. There, he meets Morgan, a young woman of means from Chicago who just graduated college and is getting ready to launch her own music career. They fall in love within days, and he wonders if he will be able to change his life and follow this new, unexpected direction. Colby and Morgan's story alternates with that of Beverly, who is running from her abusive husband and trying to hide her young son to keep him safe. Beverly's tale is fraught with tension, and readers will realize that there is more to her situation than it appears. When Colby is called home to deal with a family emergency, forces converge to link Beverly with the lovers. Sparks' (The Wish, 2021) latest appealing novel is filled with plenty of serious situations among the dreams and romance and rewards with a satisfyingly hopeful ending.